Allergic Conjunctivitis
This is my bad time of the year for ocular allergy. For most people its spring, but for me its Sept-Oct-Nov-Dec. I don't know what I'm allergic to but whatever it is, its out in those fall months. I get the nasal congestion, etc but worst of all is the ITCHY THROAT (palate) and itchy/watery eyes. My eyes are also very gooey/sticky in the mornings (mucous). I know, TMI right?
I just wanted to discuss what personally works for me b/c I'm using Rx antihistamines daily right now. Here's what I use myself and what I Rx for patients and why:
1) Bepreve: I really like this drug and its recently been one of my "go-to" Rx antihistamines. It clears the "goo" quickly, stops the itch & even helps with the itchy throat (palate), no kidding. This stuff really works. It has a pretty bad aftertaste, tho...which I personally do not mind at all, but patients (and my wife) absolutely detest. So that's a downer. To be used twice a day.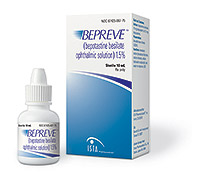 2) Lastacaft: This stuff works really well too and has zero aftertaste. This is what my wife uses (a GPC sufferer, since I blog about GPC a lot). I don't think it helps with the itchy palate, so for that reason I still like Bepreve a little better for my own use. But for the actual ocular symptoms that most of you are asking the O.D. about, this one is as good as you can get. Plus my wife & daughter both greatly prefer this one b/c it has no sting & no aftertaste. 12/14/2011 edit: I just found out this is ONCE a day (QD) not twice a day (BID!) I can't believe I didn't know that! I mistakenly thought it was BID. Oops. Hey I can admit when I am wrong! My excellent Allergan rep corrected me.
3) Pataday (olopatadine 0.2%): Also a great drug. Designed for once-a-day dosing, this is the successor of the wildly successful "Patanol" (which was twice-a-day). I'm not sure I ever bought the idea that simply doubling the concentration of Patanol (olopatadine 0.1%) lengthened the effectiveness of the drug another 8 hrs, but I guess it's possible. This is probably the most-Rx'd eye drop right now (edit: Allergan rep says the most Rx'd drops are XALATAN & RESTASIS). Very popular.
4) There's one OTC antihistamine that I think works pretty well, and it's not Visine-A, Opcon-A nor Clear Eyes-ACR, as all of those are mainly vasoconstrictors with old, not very effective antihistamines. Over the counter I like ketoifen fumarate, which is sold under at least 4 (and probably more) brand names: Alaway, Zaditor, Wal-Zyr (Walgreens brand Eye Itch Relief), and Zyrtec Itchy Eye Drops. This drug works better (IMO) than any other OTC anti-allergy eye drop, and almost as well as the Rx ones above, at a fraction of the cost.
5) When the patient has significant redness, swelling or inflammatory signs beyond just the symptoms of itch & mucous production, I typically get more aggressive & Rx steroids. My steroid of choice for this is Bausch & Lomb's Alrex. This stuff is very safe, even for long term usage, and eliminates itch as well as swelling, redness & inflammation. The only downsides are the sometimes-overhyped stigma of steroid usage (glaucoma, cataracts, etc), and the fact that usually steroids don't INSTANTLY eliminate the itch, like the antihistamines above do.