Jazz G.A.S. & Seller's Remorse
"G.A.S." is "Guitar Acquisition Syndrome", and i pretty much always have a mild case of it. right now, however, its acute.
so a week ago i traded both my 25-year-old Peavey Patriot bass & my relatively-new Squier Vintage Modified Jazz bass towards a new 5-string bass: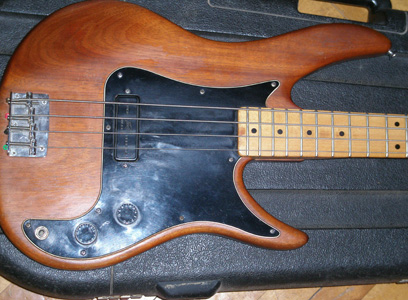 PEAVEY PATRIOT
VINTAGE MODIFIED JAZZ
now i think i'm having a little seller's remorse.
i never played the Peavey. i had it a long time and there are a few memories associated with it, but i generally didnt like it. i didnt like the way it played, i didnt like the single soapbar pickup, i didnt like the way it looked... i only kept it b/c it was my 1st bass. i did some research on it & its not a collector's item. its worth basically nothing except some sentimental value. its heavy & it takes up space. i'm not too broken up about this one.
the Vintage Modified Jazz was the bass i have played exclusively for the last year or so. i loved it. i got a very good price for it, so i dont feel too badly, but since i dont have ANYTHING to play right now, i'm really missing it. it was solid maple, however, and reealllllly heavy.
i guess the kicker is i wish the new bass would get here. maybe that'd solve my G.A.S. problem. i wanted to move "up" to a 5-string bass, as our church's praise team plays a
LOT
of songs in G, C & D, and i'd like to have the option of playing those notes below the low-E of a 4-string.
here's the bass i ordered...its regrettably not here yet, sigh:
its a
SQUIER DELUXE ACTIVE V
5-string Jazz bass. most notably it has 5 strings (the 5th is a low-B), but it also sports a wider & flatter neck which is very easy to play. it also has a unique "ebonol" fingerboard which is a form of synthetic phenolic composite (kind of like fancy rubber) instead of wood. its really smooth, durable, and is advertised to hold up to humidity, which we in East Texas definitely have a problem with. i love the all-black look, as it has the black body, black ebonol fingerboard & matching black headstock. it also has battery-powered "active" electronics, which i hope will make amplification through the church's sound system easier & better, as the sound guys seem to always have a problem putting enough bass into the mix.
as you can probably tell i'm pretty excited about it. i just wish it'd GET HERE! i ordered it from a local shop (
lippman music
) instead of an internet dealer, so i feel better about that. i keep telling myself i've done the right thing buying locally.
BAH! tomorrow it will have been 10 days since i placed the order and paid in full...my G.A.S. is building up!